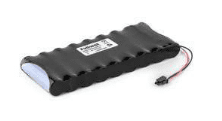 INTERNAL BATTERY
Kunak Air stations are equipped with a rechargeable lithium battery which prevents the equipment from shutting down due to a power cut. In this way, they can continue working for long periods of time until the power is restored.
Different power packs are available to power the devices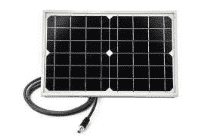 SOLAR PACKS
The 12-watt and the 6.3-volt high-efficiency monocrystalline solar panel is robust, waterproof (IP67) and has been designed for prolonged outdoor use in any environment. The photovoltaic panel makes the device totally autonomous from the power grid, allowing the installation anywhere without civil works or in remote locations.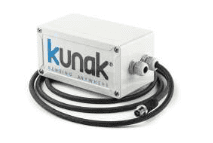 OUTDOOR CHARGER PACKS
An outdoor charger must be used when the Kunak AIR station is going to
be installed outdoors. It is small (222 x 300 x 200 mm), lightweight (220 g),
waterproof (IP67) and has been designed for prolonged outdoor use in any environ-
ment. Input voltage 100-240V AC 50-60 Hz, Output voltage 12V DC (AC cable not
included).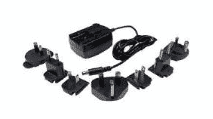 INDOOR CHARGER (optional)
An indoor charger with global plugs is available for testing and verification.
Input voltage 100-240V AC 50-60 Hz, Output voltage 9V DC.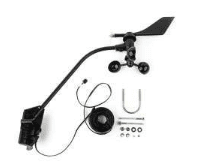 MECHANICAL ANEMOMETER
Ιt includes both wind speed and wind direction sensors. Rugged components stand up to hurricane-force winds yet are sensitive to a light breeze. It includes sealed bearings
for long life.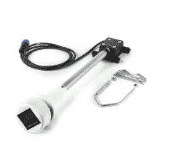 ULTRASONIC ANEMOMETER
It includes both wind speed and wind direction sensors. It is an ultrasonic self-powered anemometer. The power requirement is fairly small and is met by means of a small solar panel sitting on top of the unit along with a rechargeable lithium battery in the wider part of the stem of the unit, immediately below the ultrasonic platform.
ƒ Max. wind speed
ƒ Average wind speed
ƒ Wind direction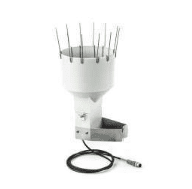 RAIN GAUGE
It is highly reliable, simple to maintain and simple to clean. It has prove good performance in all climates and conditions. Proven self-emptying bucket technology to ensure uninterrupted measurement of precipitation regardless of amount and intensity.
It measures rain by means of a standardized orifice funnel which collects water into a self-emptying bucket mechanism.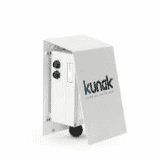 SOUND LEVEL METER
Low-cost wireless system for the monitoring of urban and industrial noise. Type 2 sound level meter that captures data in real-time and sends it wirelessly to Kunak Cloud. It monitors the noise level in critical points of different areas, provides data 24/7 and allows the configuration of alerts. Small, lightweight and easy to install.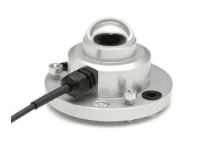 PYRANOMETER
The pyranometer measures solar radiation with a high-quality blackened thermopile protected by a dome. The blackened thermopile provides a flat spectral response for the full solar spectrum range, which enables to be used under plant canopies or lamps, when the sky is cloudy, and for reflected radiation measurements.

ULTRAVIOLET-A SENSOR
This UV-A sensors detect UV radiation from 300 to 400 nm and are calibrated in energy flux density units of watts per square meter. Typical applications of UV sensors include incoming UV radiation measurement in outdoor environments or in laboratory use with artificial light sources (e.g., germicidal lamps).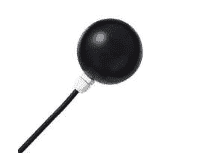 WET BULB GLOBE THERMOMETER (WBGT)
The wet-bulb globe temperature (WBGT) is a measure of the heat stress in direct sunlight, which takes into account the temperature, humidity, wind speed (wind chill) and solar radiation. It is used in OHSAS, in sporting events and by military agencies to determine appropriate exposure levels to high temperatures.

You can start with a demo