Outdoor Air Quality
The air quality monitoring station for professionals
GRECiOT in collaboration with Kunak presents the Kunak air PRO air quality measuring station.
After 8 years of research, development and pilot installations, the most accurate Air Quality Measurement Station was created.
Easy installation and change of consumables, remote sensor calibration and the simplest, secure Cloud real-time data management system.

Εύκολη & Γρήγορη εγκατάσταση
Ρύθμιση σε λιγότερο από 10 λεπτά με οπτική διάγνωση σε ενσωματωμένη οθόνη.

Σύγχρονο Σύστημα αισθητιρίων
Αντικαταστήστε και συνδυάστε
τα αισθητήρια με σύστημα
plug & play.

Σχεδιασμένο για έγκριση
και πιστοποίηση τύπου

Ρύθμιση σε λιγότερο από 10 λεπτά με οπτική διάγνωση σε ενσωματωμένη οθόνη.

Προσθήκη αισθητήρων ήχου (ηχόμετρο)
βροχής, UV και άλλων ταυτόχρονα

Οπτικοποιήστε, αναλύστε
και διαχειριστείτετα δεδομένα σας στο cloud.

Αυτόνομη λειτουργία με ενσωματωμένη μπαταρία και ηλιακό πάνελ.

Πρόσβαση στα δεδομένα και τους συναγερμούς σας σε πραγματικό χρόνο.

Πολλαπλή ταυτόχρονη μέτρηση
Μετρήστε μέχρι 5 αέρια
και σωματίδια ταυτόχρονα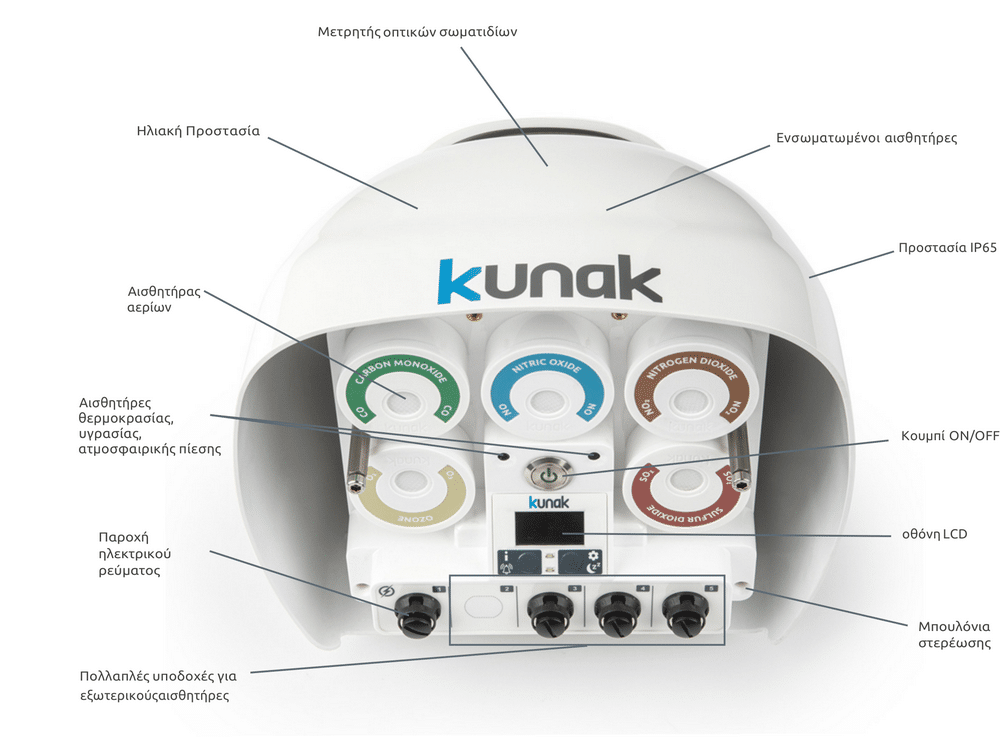 | | |
| --- | --- |
| Διαστάσεις | 257 x 270 x 225 mm |
| Βάρος | <3.5 kg |
| Περίφραξη | PMMA & Polycarbonate & Ανοξείδωτο ατσάλι |
| Θερμοκρασία λειτουργίας | -20 ºC to +60 ºC |
| Λειτουργικό RH | 0 to 99 %RH |
| Διαβάθμι ση IP | IP65 |
| Μπαταρία λιθίου | Lithium 2.9Ah or 26Ah |
| Εξωτερική παροχή | 7 – 12 Vdc. Charger or Solar panel |
| Autonomy | 24/7 with solar panel or charger |
| Power consumption | 0.08-1.2W (depending on configuration) |
| Communications | Multi-Band 2G/3G/4G (LTE-FDD/LTE-TDD/UMTS/ HSDPA/HSUPA/HSPA+/GSM/GPRS/EDGE) or Ethernet |
| GNSS | GPS, GLONASS, GALILEO and BEIDOU |
Gas sensors
CO, CO2, NO, NO2, O3, SO2, H2S, NH3 & VOCs
PM sensor
PM1, PM2.5 & PM10
Internal status
Temperature / Battery / Charging voltage & current / Signal
Built-in sensors
Temperature, humidity, atmospheric pressure and dew point
Additional sensors & actuators

#3: Noise meter & Digital output (Relay)

#4: Modbus RS485 RTU & 4-20mA & Configurable power supply output

#5: Anemometer & Rain gauge inputs

Sampling frequency
3Hz gases, 1Hz particles
Averaging periods
From 10 seconds to 1 hour
Sending periods
Configurable from 5 min to 4 hours
Remote management
Bidirectional communications
Remote configuration and calibration
SIM
Embedded eSIM and SIM holder
You can start with a demo