Outdoor Air Quality
The air quality monitoring station
GRECiOT in collaboration with Kunak presents the Kunak air PRO air quality measuring station.
After 8 years of research, development and pilot installations, the most accurate Air Quality Measurement Station was created.
Easy installation and change of consumables, remote sensor calibration and the simplest, secure Cloud real-time data management system.

Set up in less than 10 minutes with
visual diagnosis in a built-in display.

Replace and combine pollutant
sensors with a plug & play system.

Proven as the best-in-class system
by independent organizations.

Adjust the baseline and span
remotely.

Add environmental sensors
Connect wind, rain, noise, and
other sensors.

Visualize, analyse and manage
your data in the cloud.

Autonomous operation with its
built-in battery and solar panel.

Access to your data and alarms
in real-time.

Measure up to 5 gases and
particulate matter at once.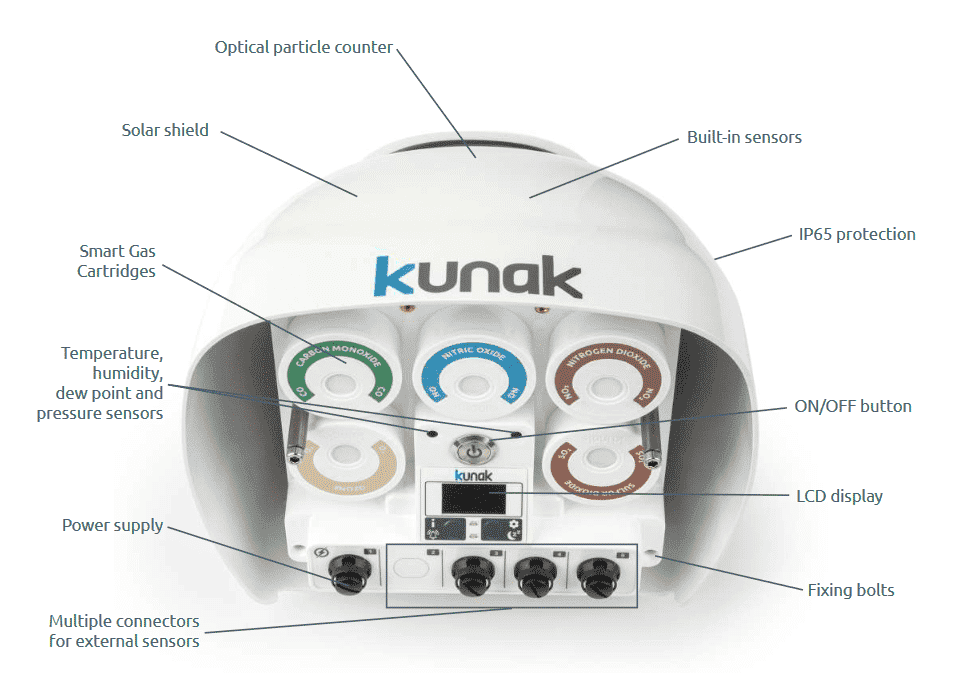 Dimensions

257 x 270 x 225 mm

Weight

<3.5 kg

Enclosure

PMMA & Polycarbonate & Stainless steel

Operating temp

-20 ºC to 60 ºC

Operating RH

0 to 99 %RH

IP rating

IP65

Battery

Lithium 2.9Ah or 26Ah

External supply

7 – 12 Vdc. Charger or Solar panel

Autonomy

24/7 with solar panel or charger

Power consumption

0.08-1.2W (depending on configuration)

 

Communications

 

Multi-Band 2G/3G/4G (LTE-FDD/LTE-TDD/UMTS/HS-

DPA/HSUPA/HSPA+/GSM/GPRS/EDGE) or Ethernet

GNSS

GPS, GLONASS, GALILEO and BEIDOU
Gas sensors

CO, CO2, NO, NO2, O3, SO2, H2S, NH3 & VOCs

PM sensor

PM1, PM2.5 & PM10

Internal status

Temp./Battery/Charging voltage & current/Signal

Built-in sensors

Temp./Humidity/Atmospheric pressure/Dew point

 

#3: Noise meter & Digital output (Relay)

Sampling freq.

3Hz gases, 1Hz particles

Avg. periods

From 10 seconds to a maximum of 24 hours

Sending periods

From 5 minutes to a maximum of 24 hours

Remote management

Bidirectional communications

Remote configuration and calibration

SIM

Embedded eSIM and SIM holder

Additional #4: Modbus RS485 RTU & 4-20mA & Configurable
Probes & power supply output
Actuators #5: Anemometer & Rain gauge inputs
You can start with a demo