Outdoor Air Quality
The compact air quality station for hyperlocal monitoring
GRECiOT in collaboration with Kunak presents the Kunak air Lite air quality measuring station.
After 8 years of research, development and pilot installations, the most accurate Air Quality Measurement Station was created.
This industrial air quality solution is designed for harsh  environments with an easy integration of real-time data  into wired industrial systems and maintaining wireless  data transmission to the Kunak Cloud software

Select your targeted pollutants for industrial monitoring or massive deployments in cities.

Easy installation and on field diagnosis thanks to its embedded display.

Get the most reliable and accurate data without the need of additional external instruments.

Get the most accurate technology at a fair cost.

Replace and combine gas cartridges and PM sensor with a plug & play system.

Local wired integration through slave MODBUS RTU or via API through the cloud.

The smallest air quality solution designed for harsh environments (IP65 & IK08).

Measure up to 2 gases and particulate matter at once.

Autonomous operation with its built-in battery and solar panel.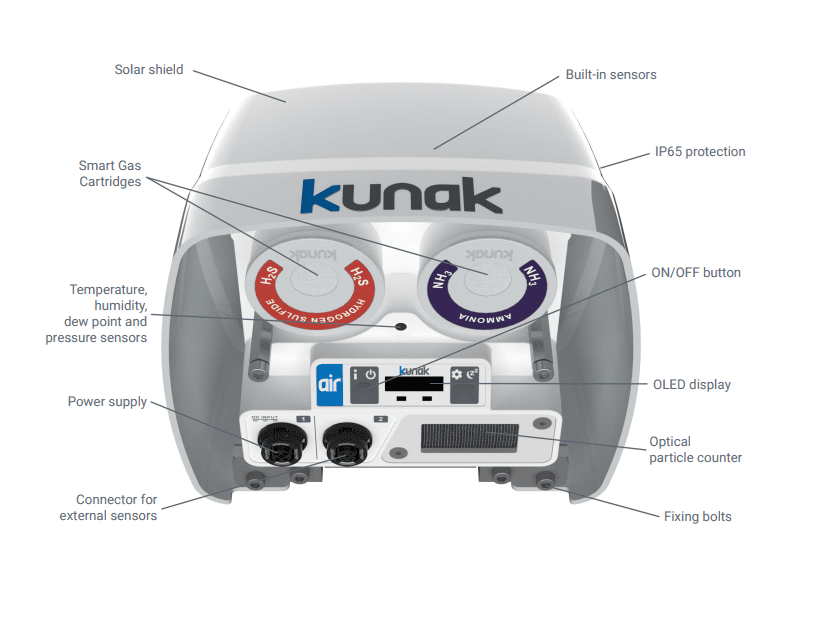 | | |
| --- | --- |
| Dimensions | 200 x 153 x 185 mm |
| Weight | <2.3 kg |
| Enclosure | PMMA & Polycarbonate & Stainless steel |
| Operating temp | -20 ºC to 60ºC |
| Operating RH | 0 to 99 %RH |
| IP rating | IP65 |
| Battery | Lithium 2.9Ah or 20 Ah |
| External supply | 7 – 12 Vdc. charger or 6 Vdc. solar panel |
| Autonomy | 24/7 with charger or solar panel |
| Power consumption | 0.08 – 0.55W (depending on configuration) |
| Communications | Multi-Band 2G/3G/4G | Ethernet | Modbus RTU Slave |
| GNSS | GPS and GLONASS |
Gas sensors

CO, CO2, NO, NO2, O3, SO2, H2S, NH3 & VOCs

PM sensor

PM1, PM2.5 & PM10*

Internal status

Temperature | Battery | Charging voltage & current | Signal

Built-in sensors

Temperature | Humidity | Atmospheric pressure | Dew point

 

 

 

Connectors

#1: Power 7V to 12V

#2: Several options to choose from:

•   Option 1: Anemometer & Rain Gauge

•   Option 2: Modbus RTU Master

•   Option 3: Sound meter

•   Option 4: Modbus RTU Slave

•   Option 5: Ethernet

Sampling freq.

3Hz gases, 1Hz particles

Avg. periods

From 10 seconds to a maximum of 24 hours

Sending periods

From 5 minutes to a maximum of 24 hours

Remote management

Bidirectional communications

Remote configuration and calibration

SIM

Embedded eSIM and SIM holder
You can start with a demo