Desperation has already gripped the peoples of Northern Europe about the coming winter and how to ensure conditions for basic heating of their homes.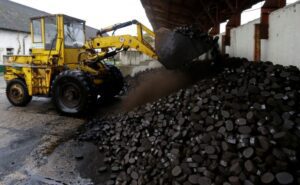 In the case of Poland, as Bloomberg reports, more than a few households are stockpiling garbage to replace the coal with which they previously heated their homes.
This in turn raises huge questions about how the rubbish will be used and what the impact of burning it will have on the environment and air quality.
"Champion" in polluted air
Poland is home to 40 of the 100 cities with the worst air quality in the European Union because of its reliance on coal to heat homes, a legacy of the "Existing Socialism" era that relied on coal mining and burning. But now fuel shortages and the rising cost of living are pushing people to burn alternative materials, even household waste.
According to Bllomberg's report, many residents say they rarely smell "real fuel" and that the smell of burning garbage now dominates their daily lives.
As Russia's war in Ukraine increasingly puts Europe's energy security at risk, Poland has another level of risk: that efforts to tackle pollution are backfiring in a country with the highest incidence of premature deaths across the Old Continent linked to air pollution.
They will distribute… masks to the population
The Polish government, which has temporarily suspended quality controls for anthrax, is considering distributing protective masks as the temperature drops. Last month, the leader of the Law and Justice party, Jaroslaw Kaczynski, the country's most powerful politician, suggested that people should do whatever they need to do to keep warm. He urged his supporters at a rally in southern Poland that 'we should burn almost everything, except tyres and similar harmful things'.
Burn everything in the ovens
Some municipalities are relaxing environmental restrictions introduced in recent years. The Malopolska district in Kraków, which is controlled by the ruling Kaczynski party, voted last month to delay the ban on the use of furnaces, allowing the burning of anything from coal to garbage, and that until early 2024. Before the pandemic, Krakow police had deployed drones with cameras to check chimneys from above to spot instances where household furnaces were illegally burning garbage. This measure is now being put on ice and, it seems, for a long time to come…